The screen is too small to see clearly,
Looking too close makes my eyes tired,
Radiation damages eyes and skin.
You can learn about this screen magnifier and these problems will no longer occur.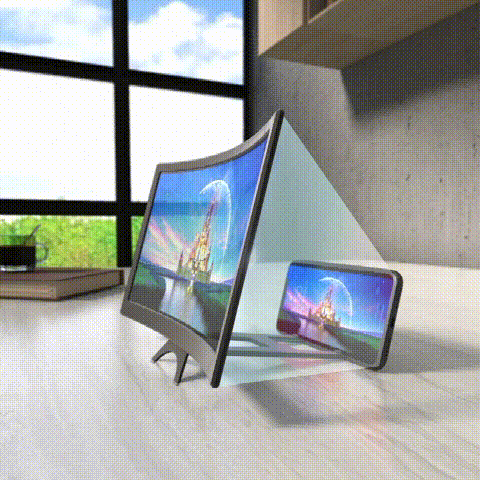 12-inch curved screen magnifier, 1:1 clear original picture magnification.
In seconds, it becomes a "private screen theater" immersive.

The golden curvature screen design conforms to the curvature of the human eye, making it more comfortable to watch, a wider field of view, and better visual effects.

Free your hands, adjust the viewing angle, and protect the health of the cervical spine.
Increase the viewing distance, reduce radiation, and protect the eyes.
Product details
The screen magnifier immerses you in all the captivating action and wondrous scenery.
The high-definition threaded lens can clearly magnify the picture and can resist radiation and relieve visual fatigue.
The anti-slip groove can effectively prevent the phone from sliding down and keep it upright to ensure the video viewing effect.
Ideal for movie watching and gaming.
 The screen magnifier designed with the ideal curvature of the screen for wide-viewing angles and accurate color with the immersive viewing experience. Accurately resembles the contours of the human eye.
HD Display Adopts curved screen with HD zoom optical technology to provide distortion-free, ultra-clear screen magnification. Foldable Design Fold it up for easier storage when not in use.

The rubber strong adsorption baffle can hold the mobile phone tightly, prevent the mobile phone from moving, and prevent the mobile phone from falling.
Although it is a curved screen design, it has strong compression resistance and good toughness.
Specification:
Product material: ABS + PMMA
Product size: 250 * 160 * 20mm/9.84*6.30*0.79″
Product color: Black
Lens color: Blue